The Mouse That Roared.
---
This is a great little play that is eminently suitable for a Lower School cast. Many may know it from the film starring Peter Sellers. A small Duchy somewhere in Europe declares war on America hoping to lose and profit from rehabilitation but by pure fluke manages to win through the capture of a devestatingly powerful nuclear device. See Resources for details.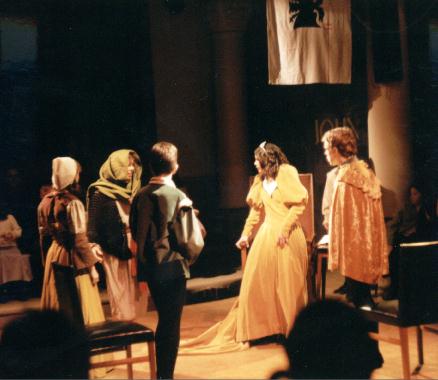 As the play features a society that has remained in the past it was a good opportunity to use the same costumes that were created for "The Taming Of The Shrew". The boy's costume is based on an extended waistcoat pattern which has had a collar, epaulettes , blouson sleeves and a panel at the bottom which forms a point at the front. It is closed with hooks rather than buttons and in this case is teamed with thick woolen tights to give the right impression. The girl on the left is wearing a dress that is made from a generic pattern that can be adapted for any period from 1400 to 1890. For details of this see Resources. The orange dress is a Vogue wedding dress pattern that has been made out of velvet in order to provide regal glamour.
The play was performed in the round as it benefitted from a more intimate feel and students gain a great deal of experience working in this fashion as it makes them think carefully about blocking and movement on stage. There are different challenges to building focus in this staging. It is also easier for the audience to see what is going on if you keep the rows no more than three deep. It can however stretch your lighting resources to their absolute limit.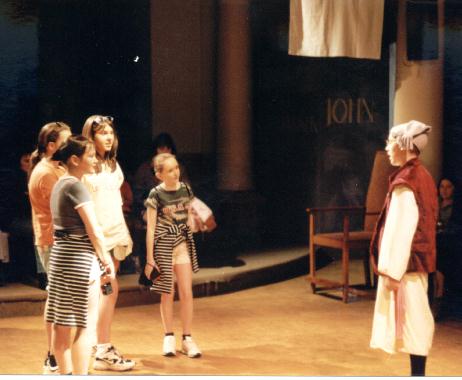 A nice feature of the play is the contrast between the modern world which lies outside the border and the Duchy ifself. This is established in the opening scene when a group of american tourists wander into the Duchy by mistake. There are lots of opportunities to stress the medieval feel of the place with flags, thrones, heralds and bows.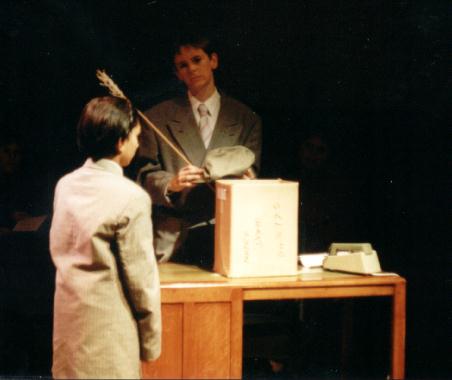 In this shot, the american President realises that his scientists have been captured along with the new atomic bomb. The arrow sticking out of the General's cap is a powerful visual symbol of the victory of a primitive society which has honour and courage as its main weapons over a vastly superior force. The planes roar overhead as part of a military parade and this serves to further emphasise the powerlessness of America which has provided the means for its own defeat.