Threepenny Opera.
---
Performed in the Summer of 2003 this is a very demanding performance. The role of Mac the knife is not only calls for some charismatic singing but also has some very difficult speeches. We decided to use a very simple approach, making use of a data projector to put up titles of songs and scenes. The setting is described as mock victorian and we decided to go for a turn of the century look as it was easier to source costumes, especially for the men. You can see that the set was adapted from "Anything Goes" last year. The upper deck was again useful and we dressed the lower stage with two huge cogs, depicting Marx and Brecht.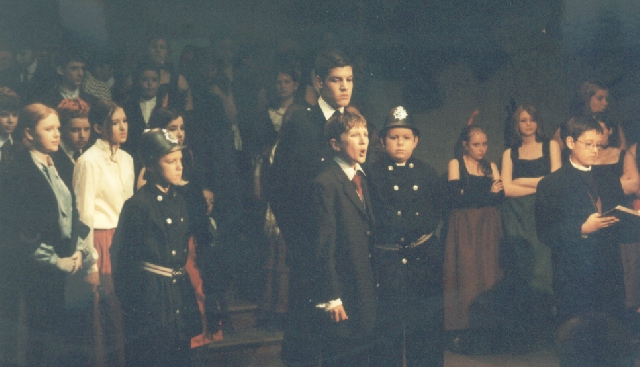 We worked on a mock victorian setting with male suits that had high collars and were worn with waistcoats. Peachum was given a frock coat and top hat. The women wore the long skirt and high necked blouses of the turn of the century. These are from a commercial sewing pattern. The main difference with this show was that there were no choreographed dance sequences. Songs were presented very simply as the singers moved to downstage positions and the lighting changed. This meant that we could rehearse the songs and the scenes separately and pull everything together at the end.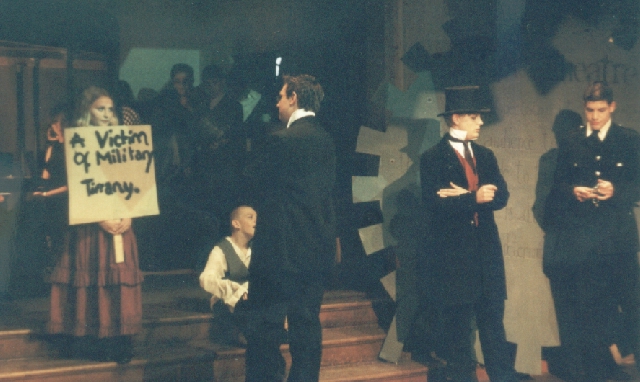 Mr and Mrs Peachum survey the handiwork of the beggars. The play was described as 'very dark' by several in the audience but the songs are amazingly catchy and after an initial shock the cast really got to grips with the play. We used the Methuen translation and had to modify one or two of the lines in the songs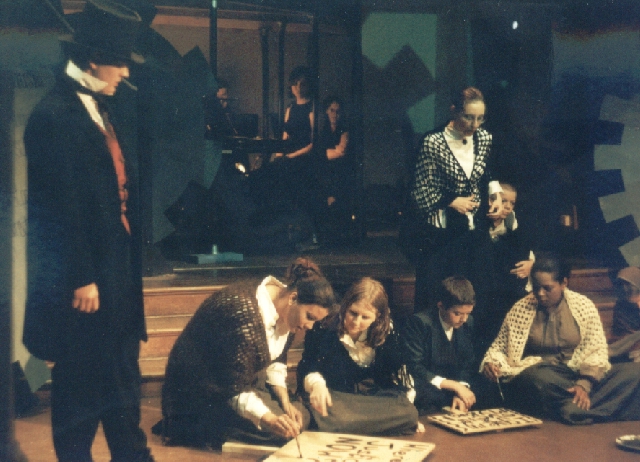 The two police constable outfits below were made through using a chef's tunic. Replacing the buttons and adding a suitable belt gave the right feel although I wish I could have found some suitable numbers for the collar.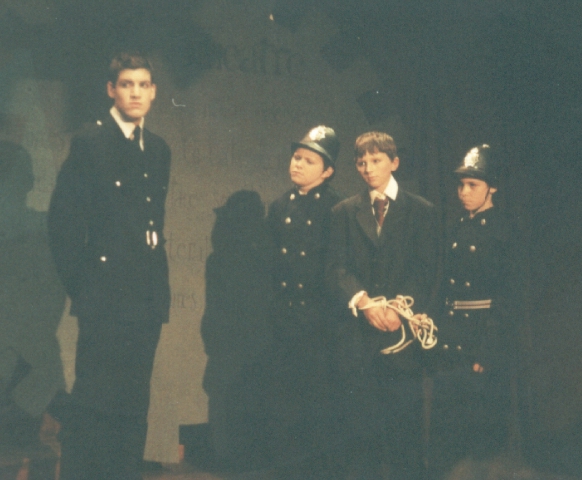 This scene is an absolute nightmare to stage. I'm sure Brecht was determined to make it as difficult as possible. It involves a harpsichord which has to have the legs sawn off, setting up a trestle table and then loading it up with expensive looking plates and food as well as a rug on the floor and a grandfather clock ! Note the collars on the gents shirts. We took an old shirt and cut the collar off to replace it with a higher one made from stiffening. Works well from a distance.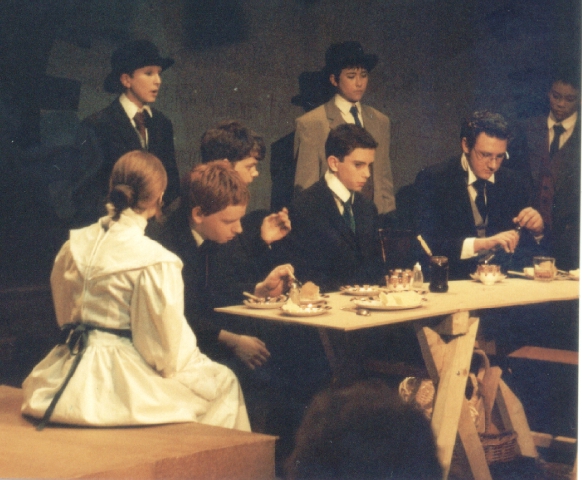 The staging was simple with only the items specified in each scene and the cogs as a backdrop. We gave the overall lighting a cold feel with blue gels and then when a song started we lit the singer with a warm violet profile spot to give a contrast. A small cog was hung from the rig downstage and we projected all the scene info and song titles onto it.